What to look for In a Dental Implant Course
December 20, 2022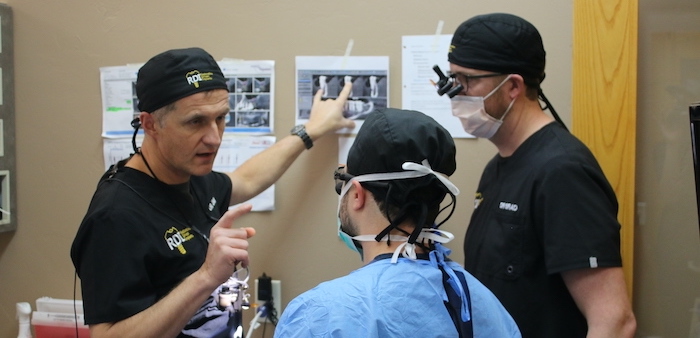 If you're searching for the best dental implant course, how do you know who to trust? There are literally thousands of programs out there that attempt to teach you all there is to know on the subject. Not to mention, they vary hugely in learning content, price, and reputation. If you make a wrong decision, there's a good chance you'll learn something that will misguide you instead of the material that will help you. So, how do you choose? In this blog post, we have outlined some important information and questions that will guide you through your decision-making process.
5 Questions to Ask Before Enrolling in a Dental Implant Course
How many hours of implant training does a person need?
This is a crucial question to ask, as it all depends on your experience and your goals. Some courses require less than 40 hours of training, while others can range up to 100 hours or more. The more hours, the better! The number of hours required for a dental implant course depends on your objectives, the certification you seek, and the requirements for continuing education credits. We recommend that new learners enroll in a course with at least 60 to 80 hours of content.
Will I be able to use my training immediately in my practice?
To help determine what kind of training suits your needs best, think about how soon you want to start using implants in your practice. Some courses offer hands-on training where you can practice placing implants on patients under the supervision of an instructor. Other programs might require you to travel overseas to only experience implant placement on patients. If this is important for you, make sure that any program you choose offers a well-rounded experience from implant placement to restorative, so you can apply what you have learned immediately after completing the course and have happy patients as a result.
What happens when I finish the course?
Once you have completed the course, it's important to get your team together and make sure that you are all on the same page. Look at your patient protocols, dental insurance codes and have a discussion regarding how to best educate patients based on the additional services you are offering.
What are the course's accreditations?
Accreditation is important when choosing a dental implant course. It indicates that an institution has met specific standards of compliance. So, if you're going to spend money and time on a training program, make sure it's accredited by a well known organization.
Who conducts the course?
When looking at different dental implant courses available, it's essential to know who will be conducting them. A dental implant course is usually taught by faculty members who have many years of experience in teaching dentistry students and practicing dentists alike. Also it would also be helpful to find out what kind of experience they have had with dentistry in general.
What are the course fees and schedules?
Not all dental implant courses are priced the same way. Some may have fixed costs, while others will have variable costs based on location, duration, and type of the program being offered. So, it is vital to do your research beforehand so you know what to expect when enrolling in a particular program.
Whether you've more questions about a dental implant course or thinking about getting yourself enrolled in one, Restorative Driven Implants can help. Reach out to us at (715) 962-8454.